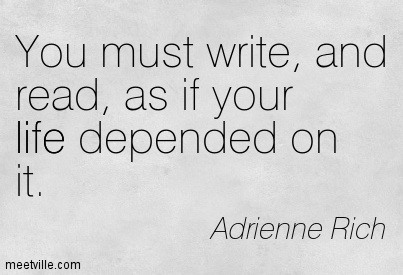 I wanted to share a few little bits and pieces I've been reading lately, both tips on short story writing and some quotations and musings on some of those I've enjoyed lately.
I came across this great article recently on the Writers and Artists website and will definitely be trying to take these tips on board. Looking forward to reading Eliza Robertson's collection Wallflowers. Maybe have a read of her tips in the article and see if they resonate with you. My particular favourite tip was number 5 and her reference to Adrienne Rich and capturing the "sheer heft of living." Funnily enough this ties in with number 2 and I'd always thought I didn't really get poetry; it just didn't sit with me that well. But when I looked up this one, I read it again and again.
The other blog I found that I really liked this week was KM Elkes, whose piece 'The Three Kings' was commended in the 2015 Bath Short Stories Award; a piece well worth checking out. I really liked having a look around his blog, full of info and tips about writing, particularly liking this post. I'm always thinking I've got to read copious amounts to truly improve my fiction writing, but this is a great reminder that it's not how much you read, but how you read. And after all, if something you read affects you, that's when it's important to analyse the piece; what is it about it that makes it sing to you and how can you bring that out in your own writing?
The Bath Short Stories 2015 Awards Anthology is well worth sharing. The 2015 Judge, Carrie Kania wrote in the introduction to the short stories selected that what she was looking for in a short story was: "trouble at the start, followed by a reason or solution." In reading the shortlisted stories, you can see this in action.
In Sofia Moore's story That Summer, the winning entry, her first line is:
"That summer, I was sure someone would die."
Events unfold within a small town, tension and prejudice mounts, all narrated and seen through the curious eyes of a local boy.
2nd entry, Dan Powell, 'Dancing to the Shipping Forecast', builds tension from the off:
"The wind shoves at the doors and windows and demands to be let in. It quakes the glass and howls when its entrance is denied…"
The storm feeds the atmosphere and the emotion continues to climb throughout.
And Angela Readman's, The Woman of Letter, awarded 3rd place doesn't disappoint either. The opening poetic imagery has a fittingly sinister undercurrent to hint at what's to come:
"It is a perfectly ordinary morning, I have just told a young woman her lips are like strawberries in the snow. May strokes her bottom lip feeling for fruit, a sweetness that can bruise."
So many other good authors in the 2015 anthology. Definitely recommend a read if you haven't purchased it yet.
Happy reading and writing!